A Forever Home – Part II
03.31.2018 | Paula Daher | Town
As an interior designer the most rewarding projects are those that allow us to re-think a home and arrange all of its rooms and parts to function for the individual needs of a homeowner. Here, as we continue our tour of before and after photos of this beautiful Cottage Farm renovation project, I want to show you how we completed the first floor for family living.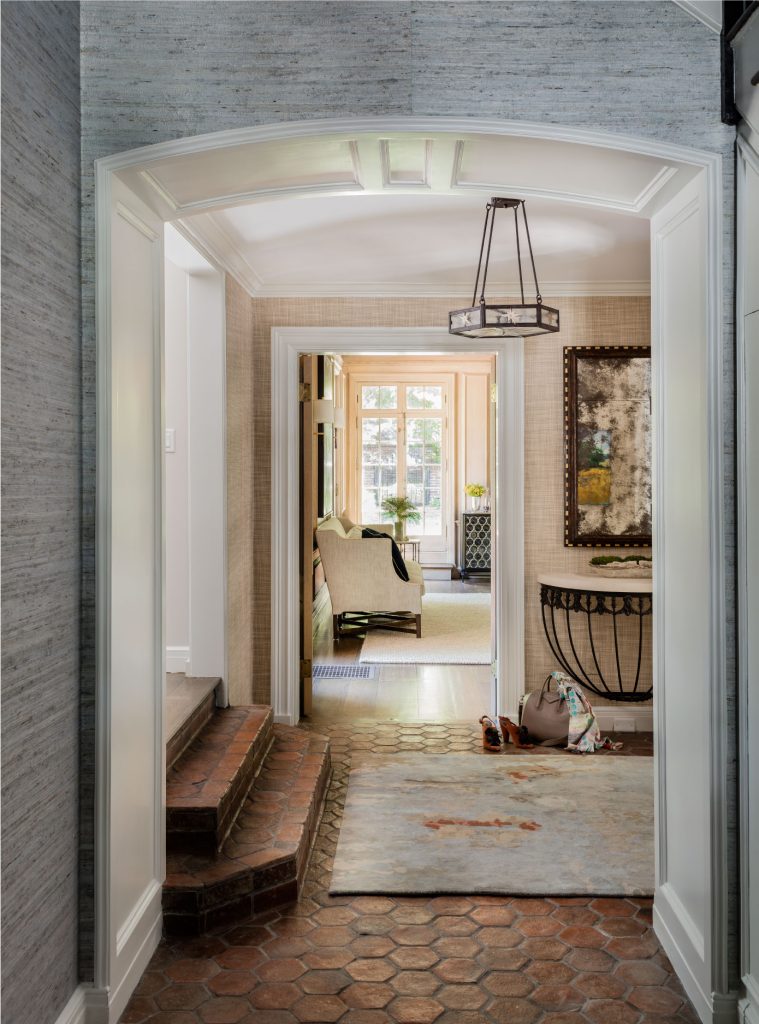 Gracious living awaits!
We begin in the stately library of this English Revival with it's original paneled walls and stunning, yet hidden, carved forest green marble fireplace surround. For today's family, the space was too dark and formal. Our task was to retain the existing grandeur while making the space more casual and livable.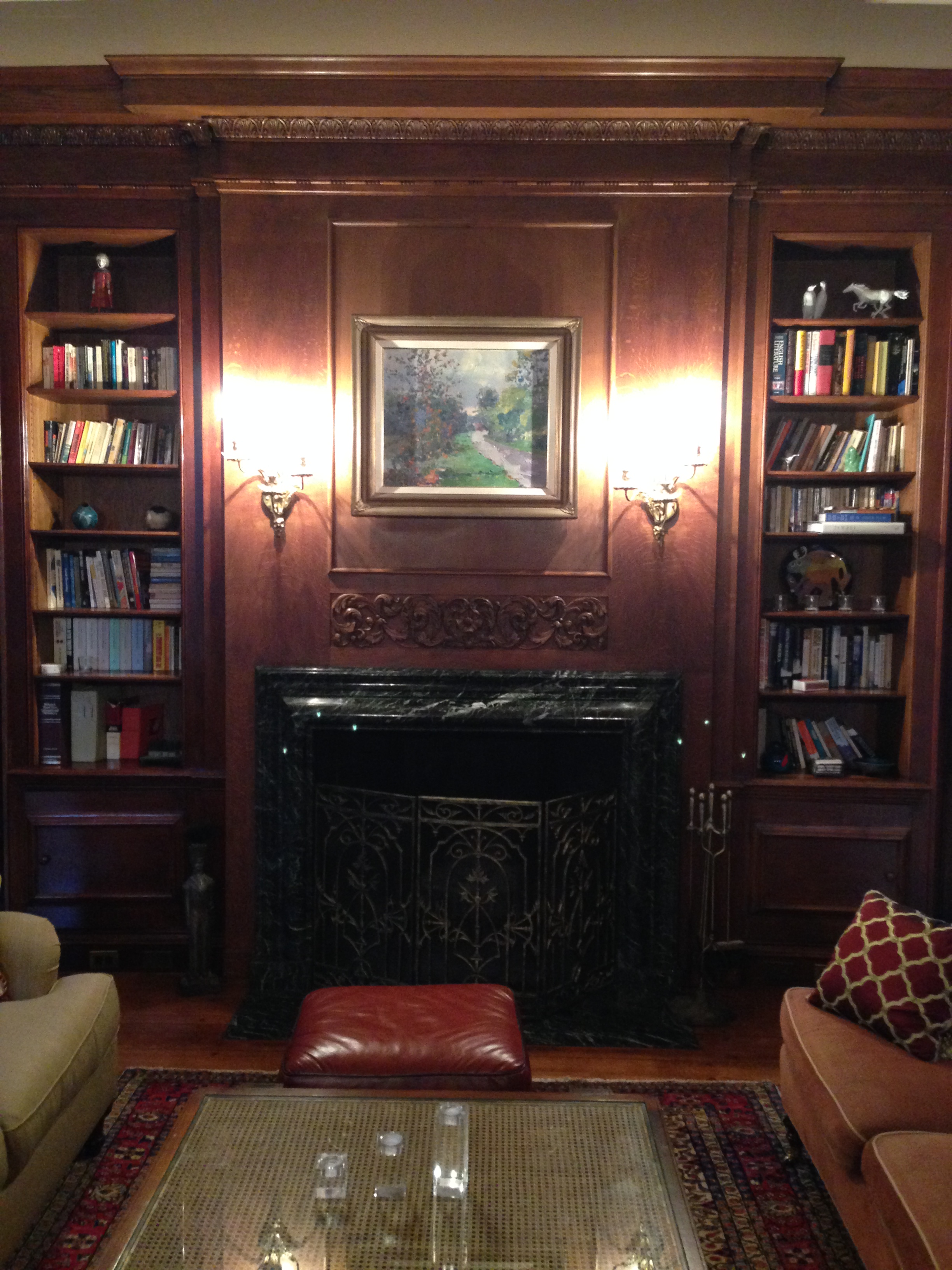 Dark paneling makes for a very serious room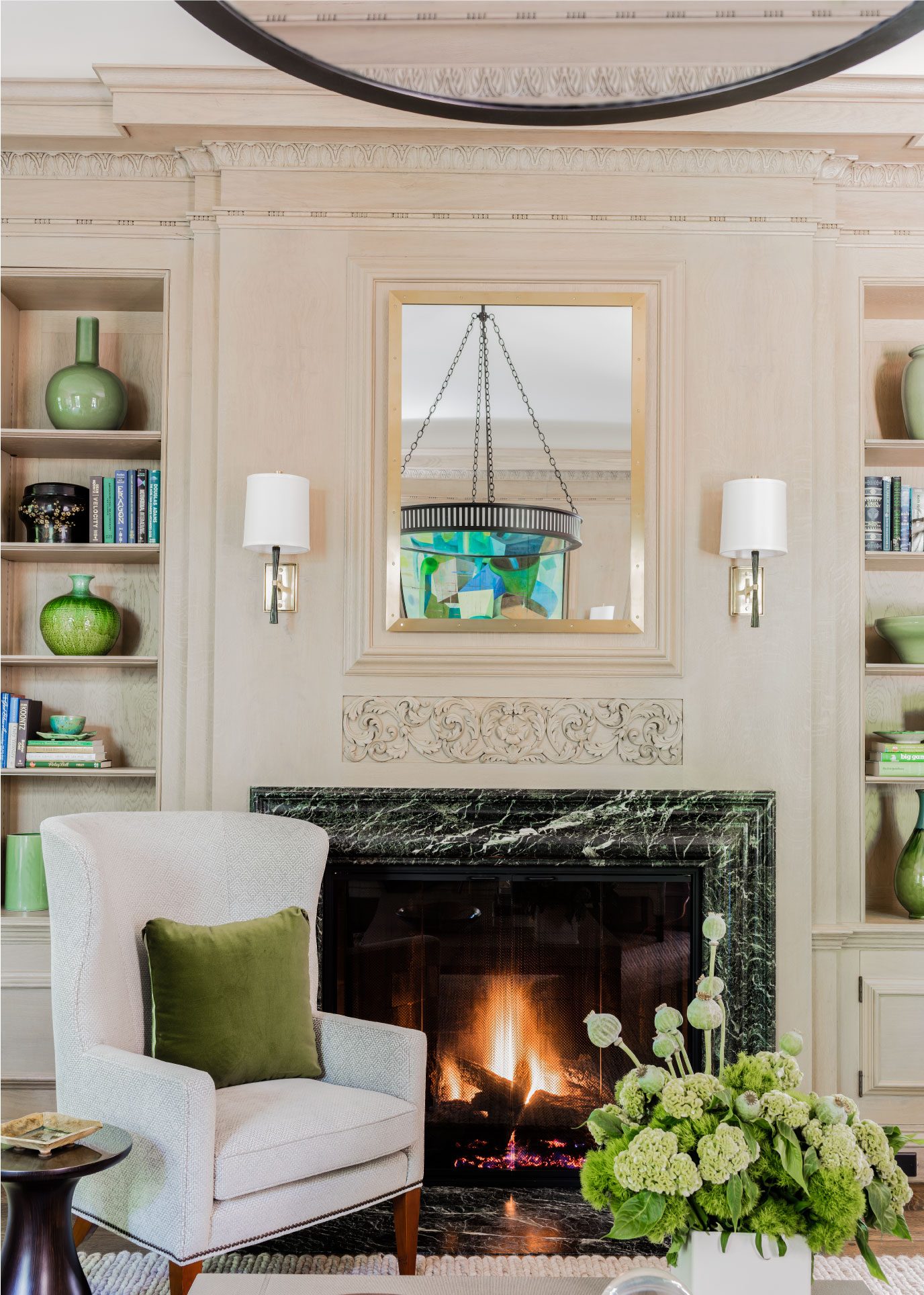 Lighter walls help to enliven the space
The walls were expertly stripped and re-stained by a master wood re-finisher. What a transformation! The former marble fireplace surround now stands proud with heightened importance against the lighter walls.
We were asked to make the space work for adult gatherings and to do so we created a floor plan that offered seating to fit 10 comfortably with plenty of room to pull up additional chairs. We added a contemporary dry bar and peppered the room with furnishings that, at first glance, may appear to lean toward traditional, yet take a closer look….a modern cocktail table combined with vibrant contemporary art by Deborah Zlotsky and Michael Zigmond adds a more upbeat, adult sophistication while still making the room accessible to children with the addition of a games table.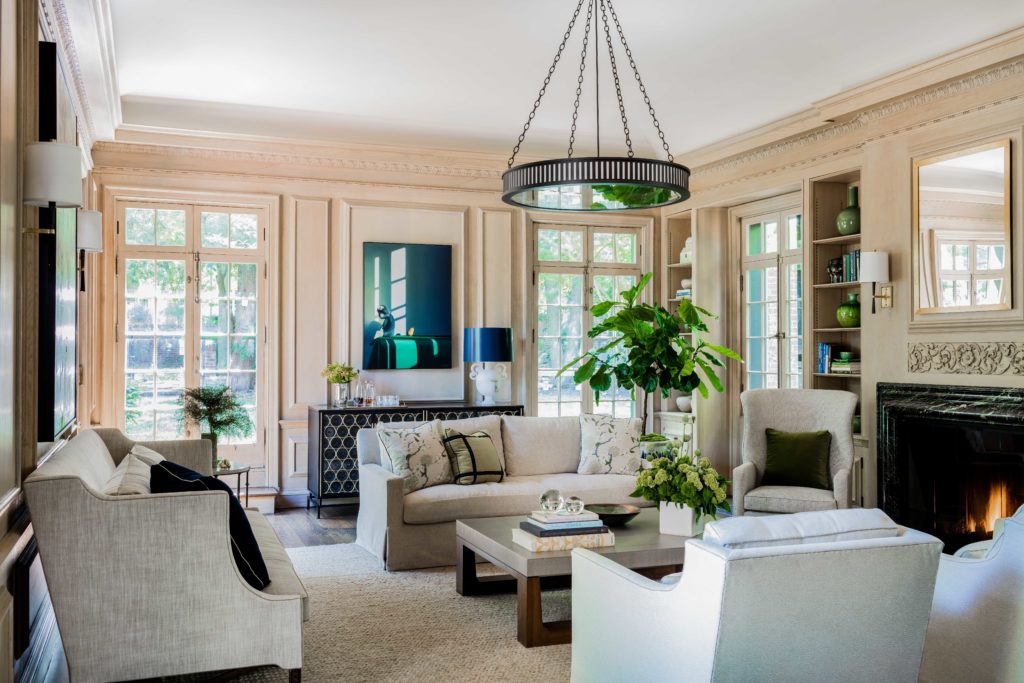 Plenty of room to entertain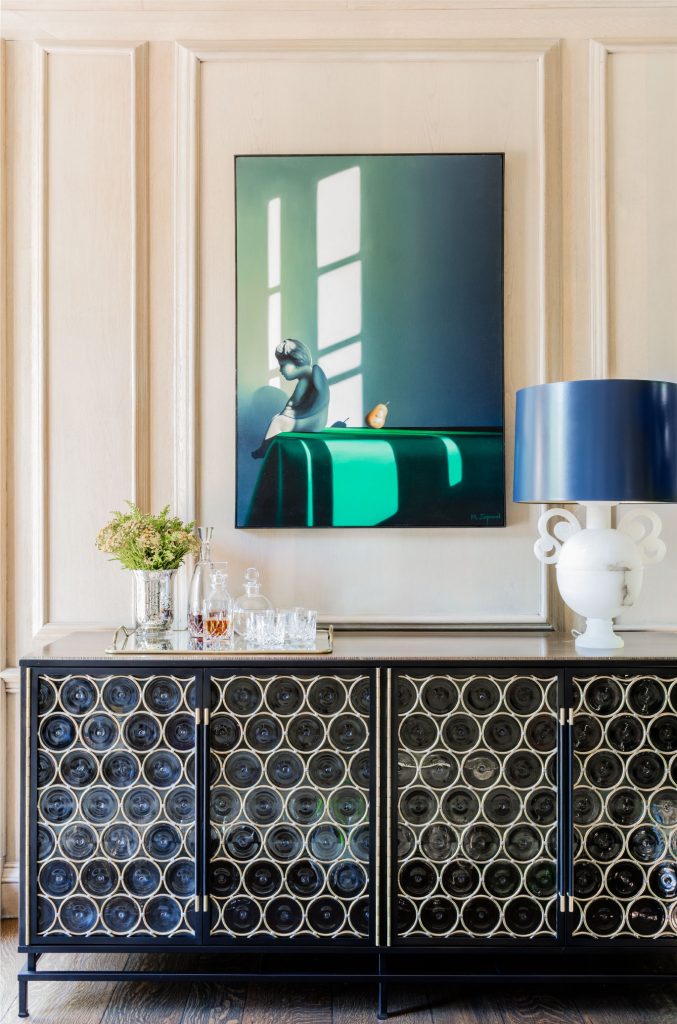 Light and dark perfected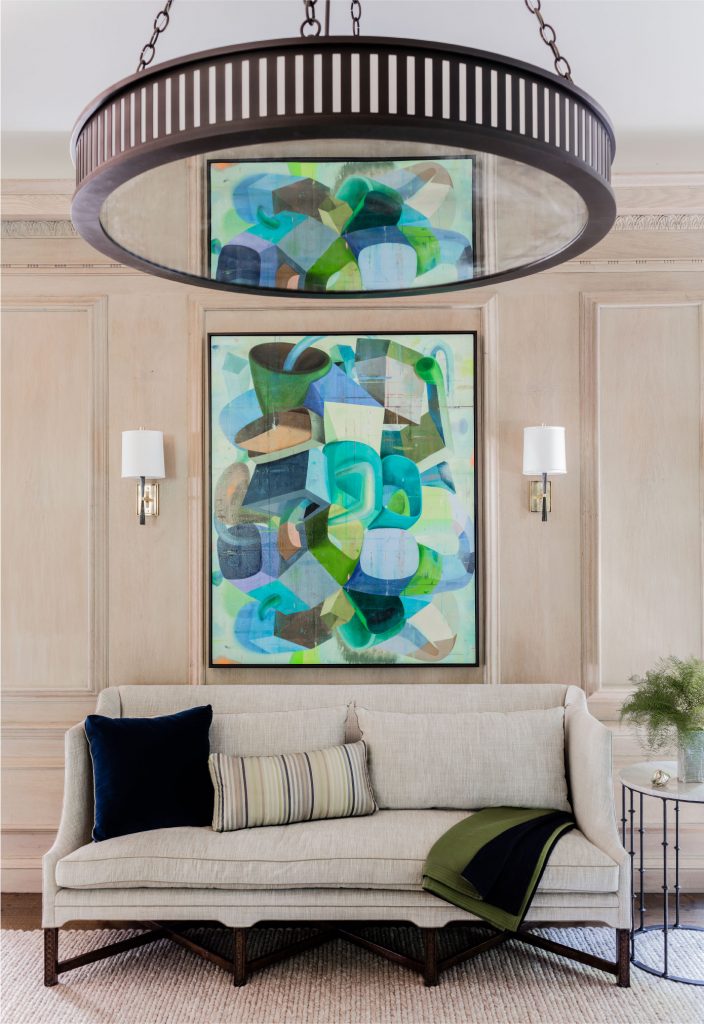 Beautiful reflections from unexpected angles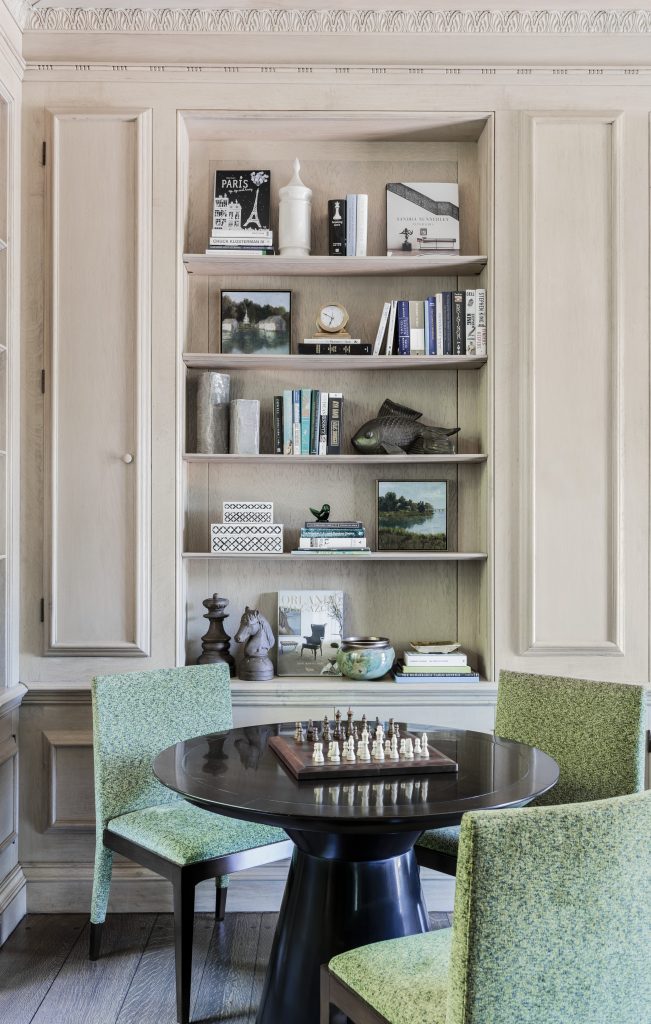 Game table for young and old alike
Now let's look at how we re-worked other first floor areas to accommodate the family's needs.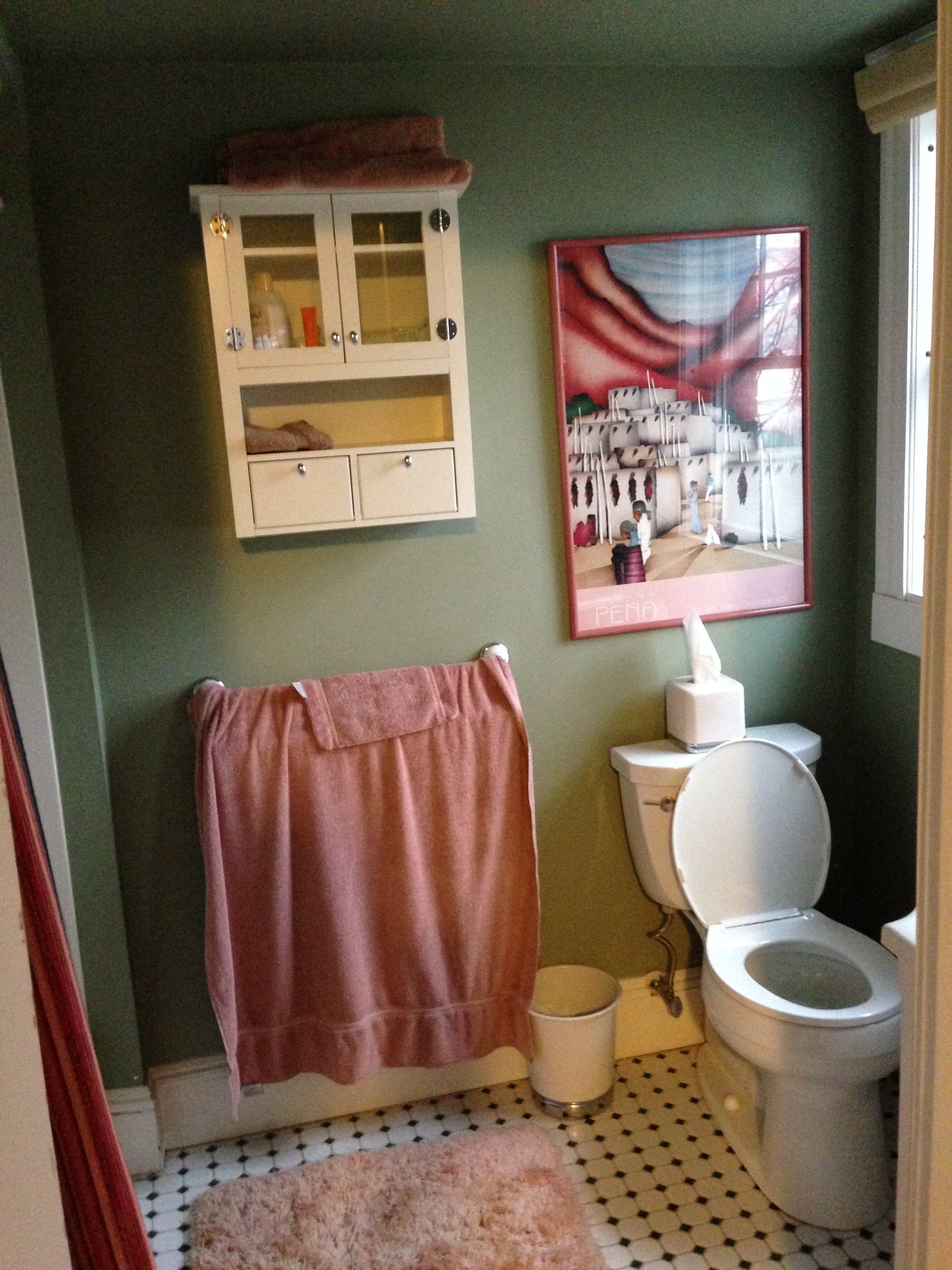 Old powder room updated to…
As one of the visiting grandparents is in a wheelchair, we needed to provide a first floor guest bedroom and full bath. The bath whose primary function is a powder room, needed to be an attractive space that met the needs of everyday use.
Our solution was to create a curb-free shower for wheelchair accessibility, a sink that belies the fact a wheelchair can roll beneath and, voila, a cleverly concealed shower behind an attractive black metal and frosted glass wall unit – function and form seamless, together.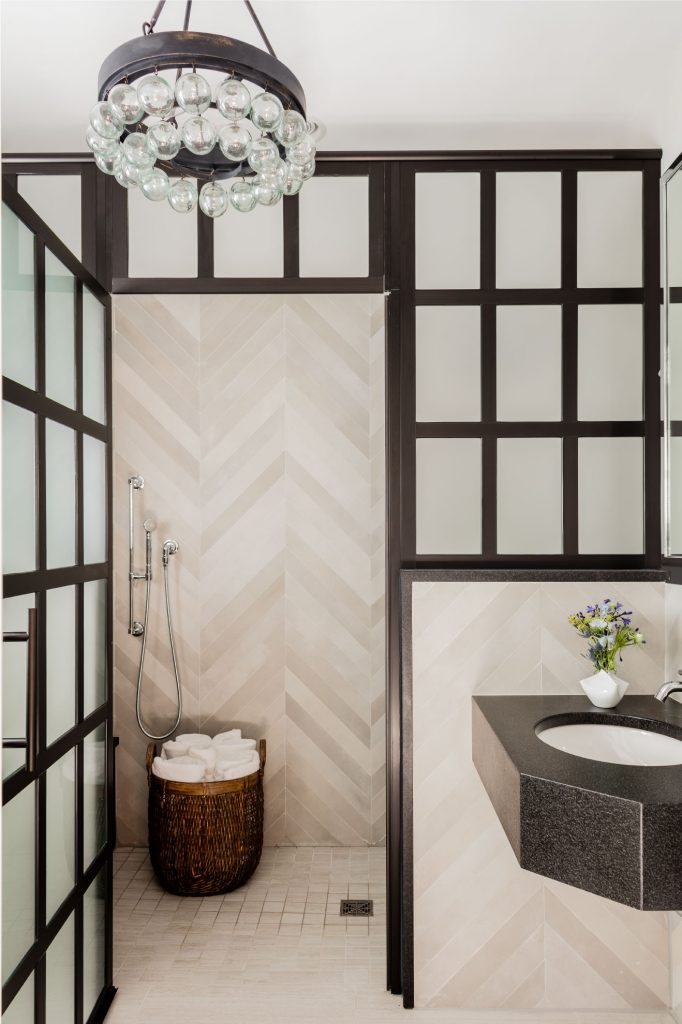 chic, modern and accessible
How about children and all those backpacks, shoes and jackets?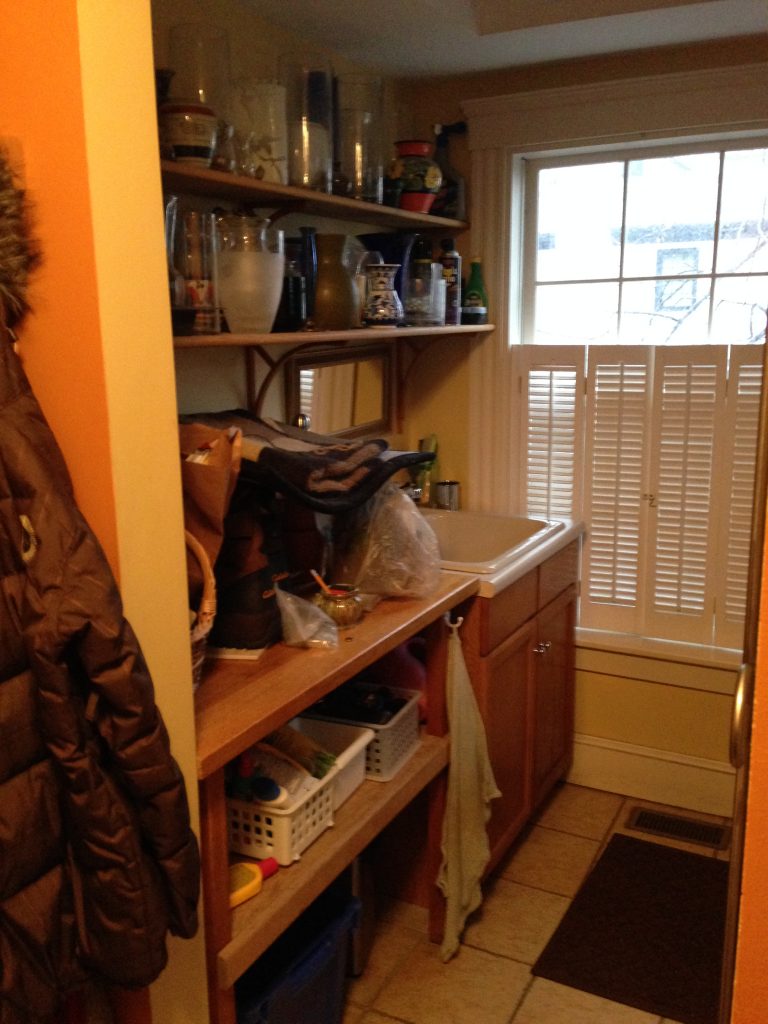 Cluttered chaos transformed to…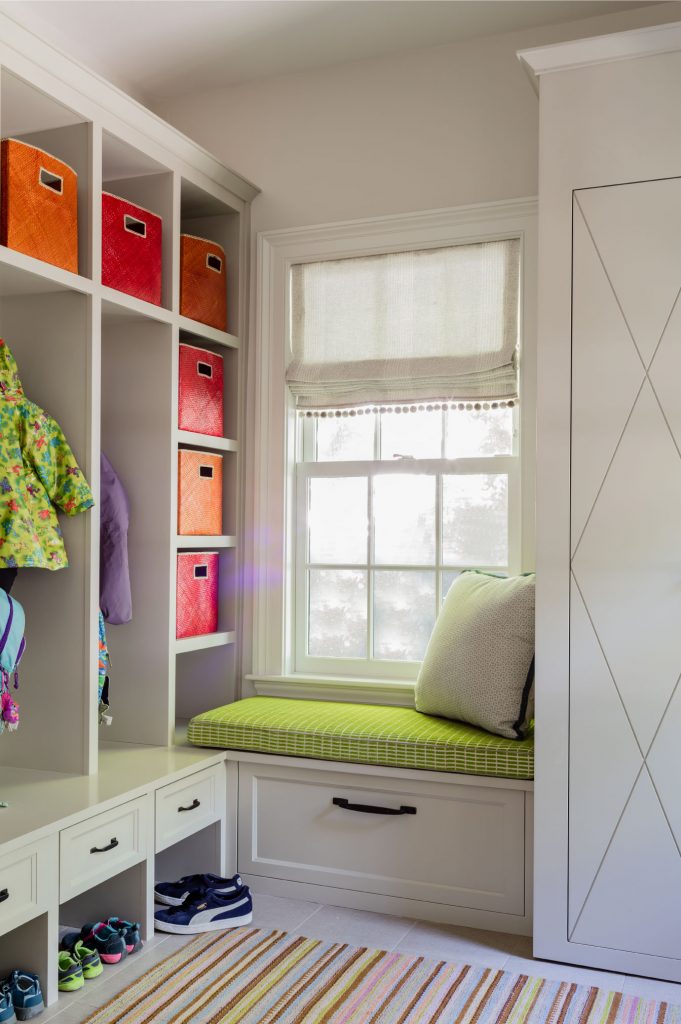 bright and happy organization
Are you enjoying the before and after images? I hope they help to show how we at Daher Interior Design can translate needs and challenges with fresh, functional design to accommodate all! Want to see more of this beautiful home? Check out our Cottage Farm project on our website and don't forget to circle back for our next post that will highlight the second floor renovation of this amazing project!
A Forever Home – Part 1
03.27.2018 | Paula Daher | Town
The redesign of a house into a home starts with the people who live in the space. For a designer, a dream project is when you get to know a wonderful family and re-design an entire home to meet all of their needs. If a floor plan does not work – we change it and, for this project, change we did – from top to bottom!
The home, a circa 1918 brick English Revival, had 3 previous owners all trying their best to retain the original gracious bones of the house while adding and reconfiguring for their needs resulting in a warren of interior rooms. While the exterior was charming with lush and expansive gardens, the interior did little to temp modern family living. Our first challenge was to create a large open area that offered generous kitchen space and family room so the 3 young children could be close by. The original plan had a dining room attached to the kitchen through a butler's pantry in between 2 stairways.
In the existing floor plan you can see how the kitchen was disconnected from any of the actual "living" spaces in the library or living room.  There was no casual TV area for the family to congregate. The new plan we came up with removed the staircase to the second floor and re-located a stairway to the basement, creating a large open kitchen and family room. The new space is perfect for a young family. We re-purposed the original living room into a large dining room located just off the kitchen and created a first floor bedroom for visiting grandparents.
How more friendly this space is to entertain! As we all know, everyone loves to hang out in the kitchen, so we made the new floor plan work with that in mind. The separate dining room, which gets used far less in everyday life, still offers a roomy place for more formal dinners and family holidays.
I love to share before and after photos because it truly illustrates how thoughtful and creative we are here at Daher Interior Design – not only does this new, rejuvenated floor plan flow effortlessly from room to room, it also compliments the original style of the house while making the entire space casually comfortable. Try and spot all of the original details of the house we tried to preserve – did you find the original flooring? How about the way we mimicked the pattern of the floor with new molding on the dining room ceiling?
This English Tudor was truly a joy to work on, allowing our creative juices to flow as we designed all of the interior architecture, millwork and furnishings – all the while working with the contractor, homeowner and all the various subs to make this a forever home for our clients.
Log on to our website to see additional photos of this completed Cottage Farm Estate and stay tuned for my next blog to see more of this amazing house transformation!