4 Ways This Innovative Design Team Transformed a Back Bay Brownstone
03.22.2020 | Paula Daher | Features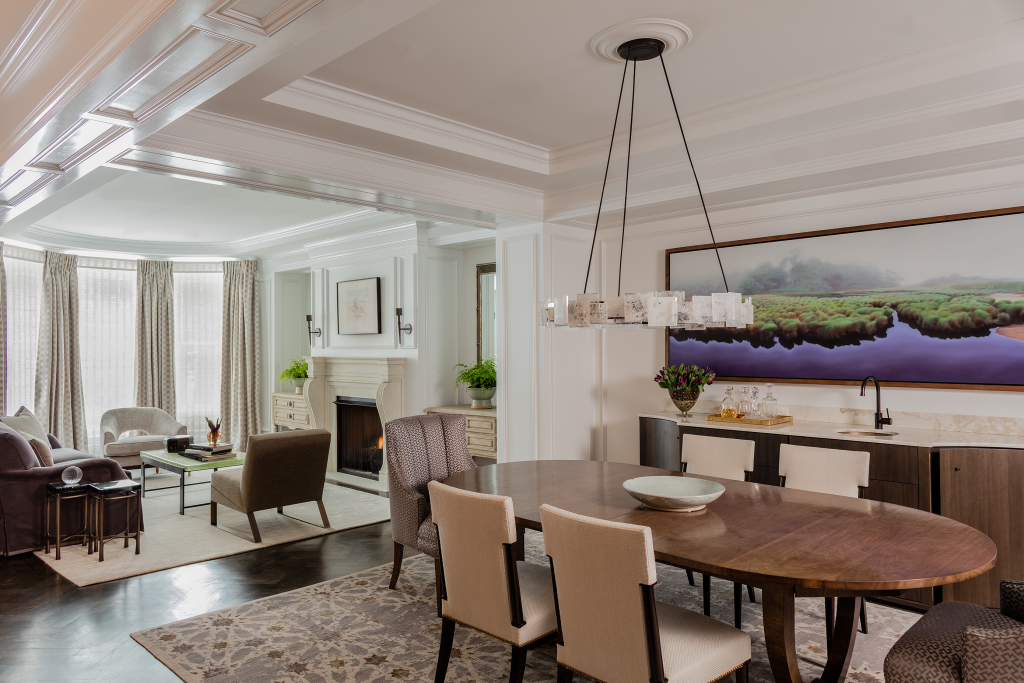 It was clear the building needed a hard reset. The old and stuffy space was no place to raise a family of six looking for a city escape. Gutting the 8,000 square feet building and building it back beautifully from scratch, though, was no small task. It was time to call the experts. Luckily, the new owners of this Back Bay brownstone knew that when it comes to city restorations and renovations, no challenge is too great for the pros at Daher Interior Design.
"The house was a shell when we stepped in," says principal designer Paula Daher. "Since we're unique in that we also do interior architecture, we were able to come up with a plan to overhaul the space and make it relevant to the family's everyday lifestyle."
What the design team crafted from the foundation of just four brick walls has to be seen to be believed. Good thing they took lots of photos. From the ground floor to the roof deck, here are four innovative ways Daher Interior Design gave the brownstone the ultimate transformation.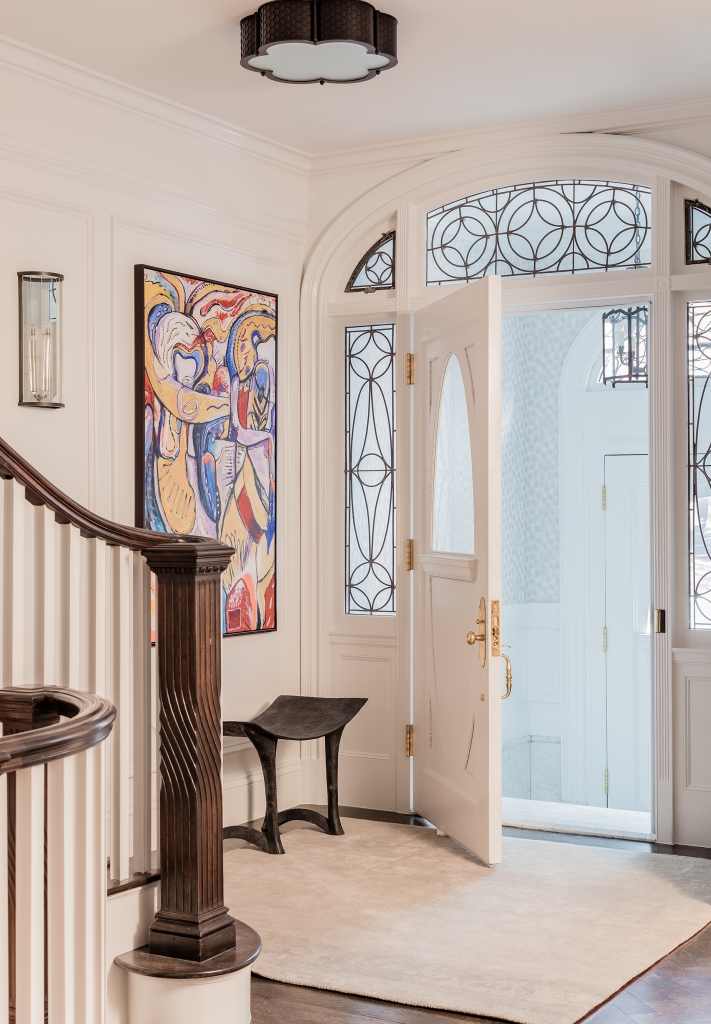 A Fresh Foyer
The home's "wow" factor shows as soon as you walk into the six-story townhouse. Almost everything is brand new. The only salvaged pieces are the front door, glass sidelights, and stair balustrade, though you wouldn't know at first glance. Even the walls had to be rebuilt. To amp up the glamour quotient, the Daher design team used molding as a way to tie in the past but painted the entire space in tones of white to create a backdrop for art and an airiness that gives the room a modern look and feel.
"It feels fresh and immediate, yet still keeps this tension between the old and the contemporary so it has a classic brownstone feel in a very glamorous way," says Daher.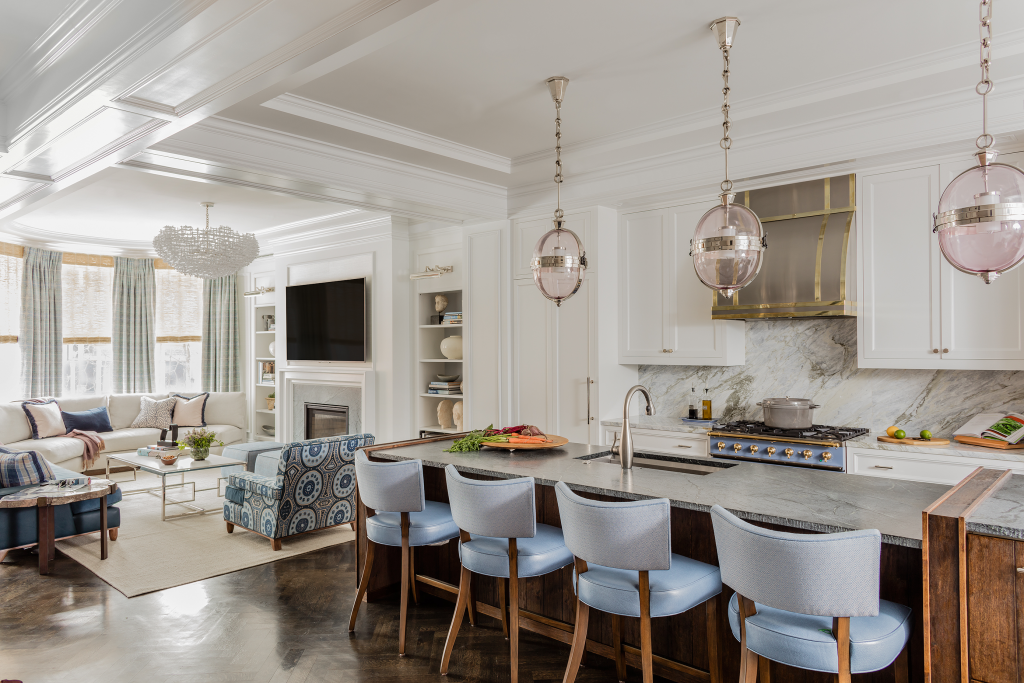 A Modern Kitchen Makeover
Narrow buildings like brownstones aren't usually conducive to large kitchens. With a whole floor to work with, though, Daher designers were able to open the space to flow seamlessly between the kitchen and living area.
"It's casual and designed the way we live today," says Daher. "Our goal is to make these spaces relevant to how people want to use their homes."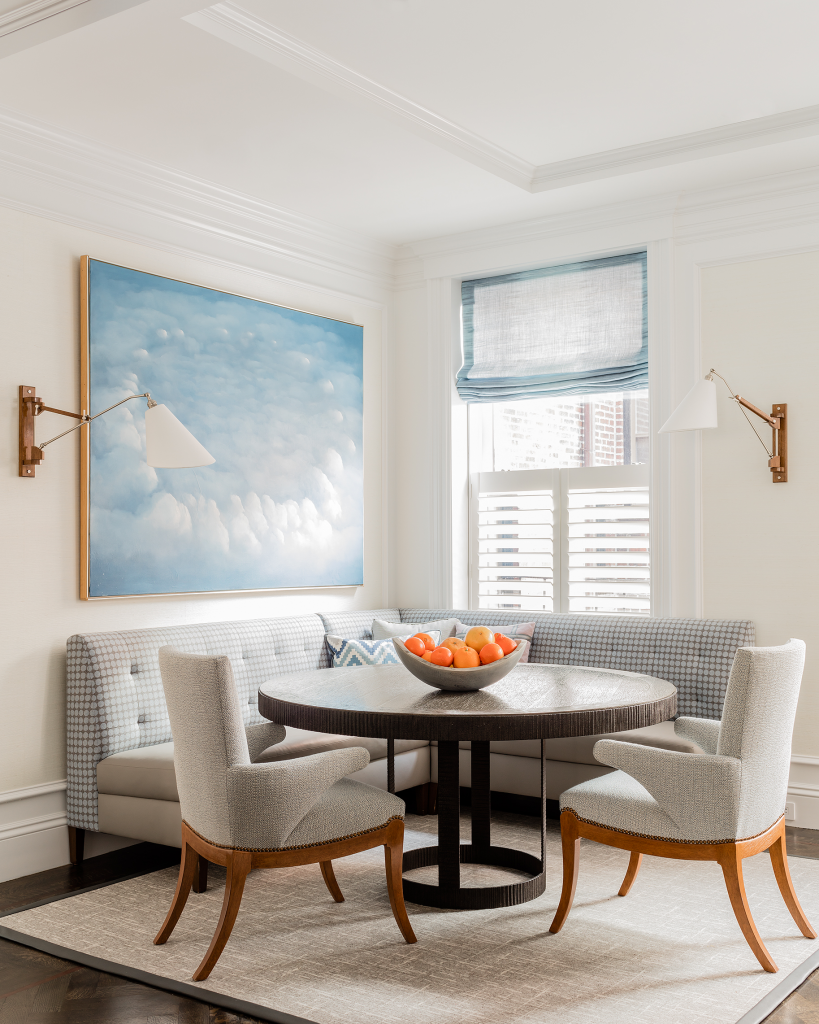 The flow between the two spaces is most evident in the periwinkle blue color palette driven by the traditional handcrafted La Cornue oven and extending to a beautiful blue cloud painting in the cozy dining area. The large windows also allow natural light all the way into the kitchen, gorgeously reflecting off the soapstone island, marble backwash, and glass lighting fixtures.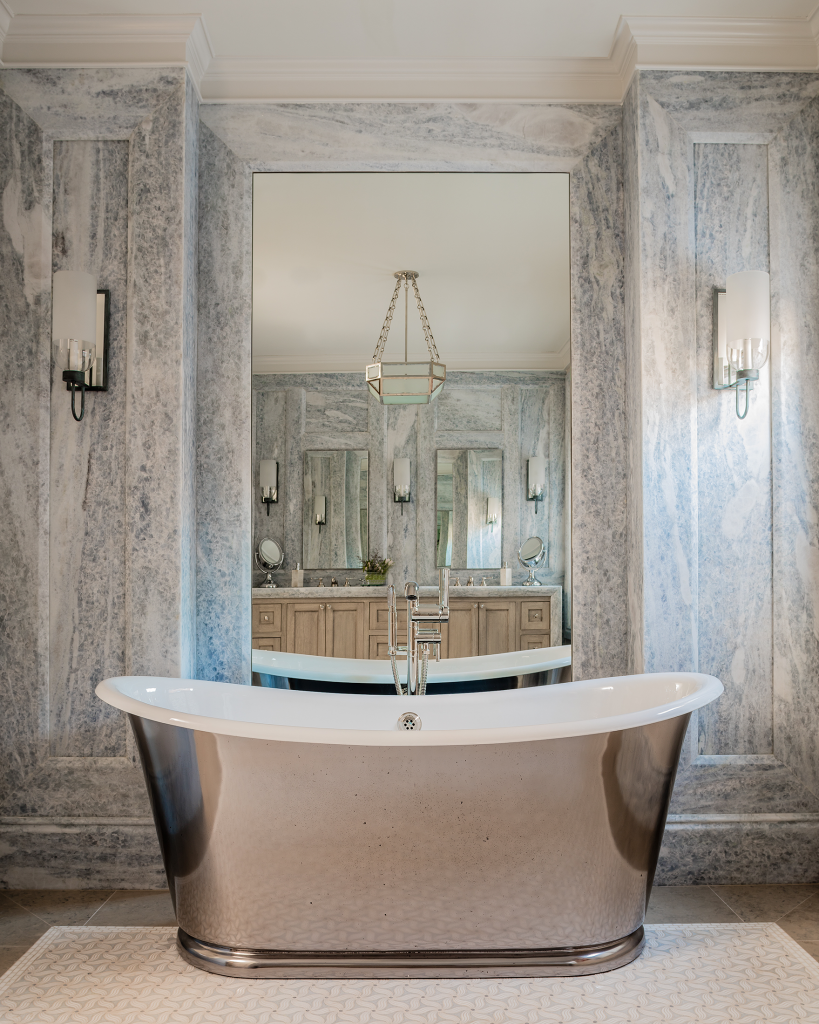 Beyond the Bedroom
Nothing helps beat the winter chill quite like a bedroom fireplace, especially after a warm soak in the ultra-luxe freestanding bathtub. They're just a few of the top-tier amenities the Daher design team incorporated into the master suite covering an entire floor with a chic dressing room, an enormous bedroom, and an office with a view.
"It's kind of like designing a yacht," says Daher. ""Brownstones are peculiar in that the buildings are narrow, yet the ceilings are very high. People live on multiple floors rather than a suburban home where each floor is much wider. With limited square feet you have to make every inch count. Everything in the design has a reason and a purpose."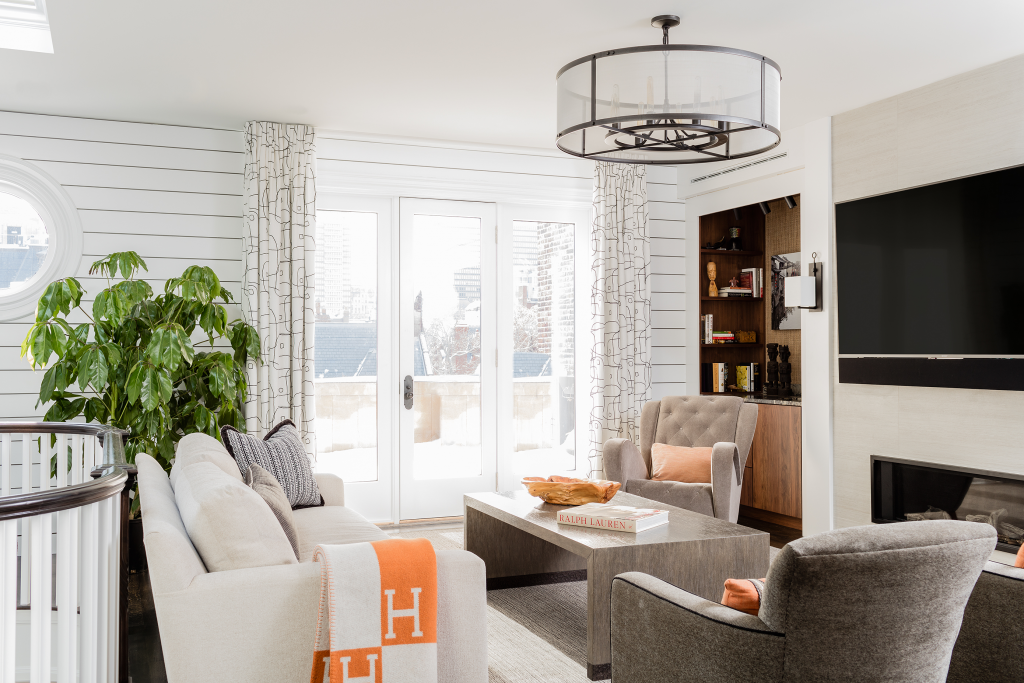 Raise the Roof
Plopping down on the sofa and switching on the TV for gameday doesn't get much more comfortable than this top floor nook crafted by the Daher design team. Not to mention the patio hot tub and stunning views of the Back Bay skyline. The stunning shiplap clad walls give the space a fresh and casual vibe perfect for entertaining friends and family.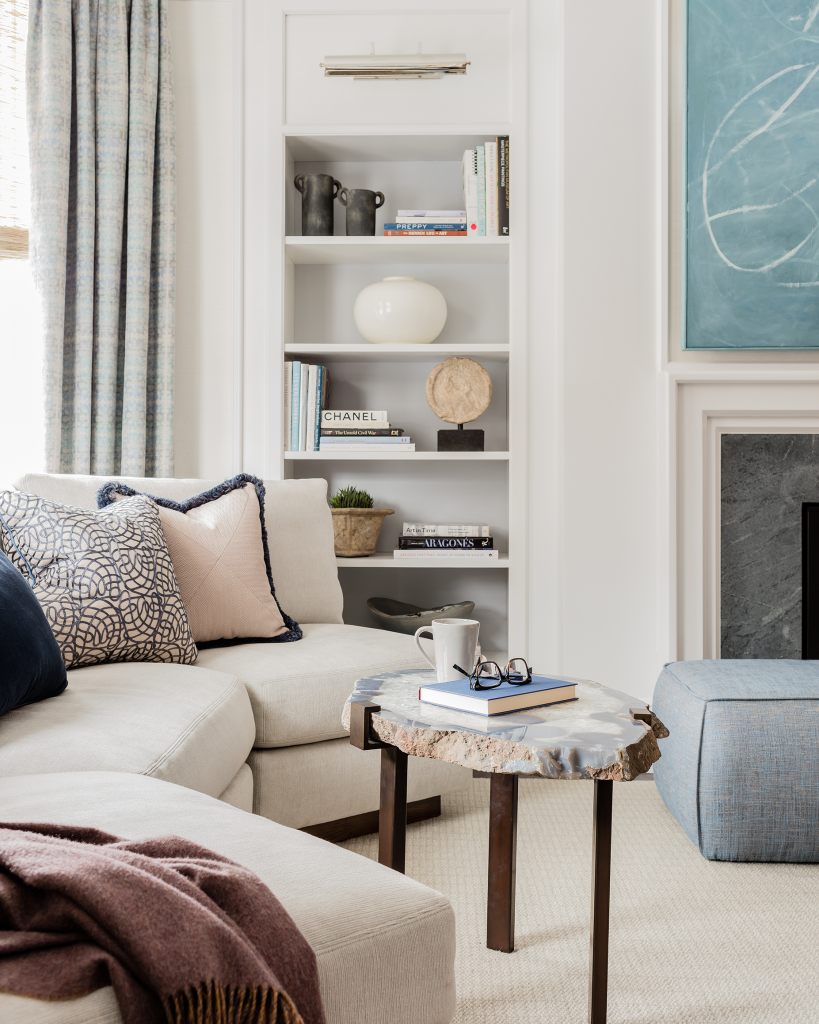 Daher emphasizes that her team's mission is always to create spaces that are an extension of each client's tastes and needs. After revitalizing dozens of high-end residences across Boston and beyond, she says her team has developed unparalleled expertise in crafting spaces that allow clients' personalities and needs to be center stage.
"The goal is always to make these spaces relevant to the clients everyday lifestyle in a unique and perfectly functional way," she says.
This article originally appeared on Boston Magazine's website.
Ironware: Designer Spotlight
10.17.2019 | Paula Daher | Features
Ironware has worked with Daher Interior Design for years, and we are always elevated by the dynamic creativity of Paula and her team. Connecting with Paula is a joy, so it was natural to ask her to answer a few questions for our Designer Spotlight.
PAULA DAHER has been designing exceptional interior spaces since 1995. As the firm's principal creative director at Daher Interior Design, Paula's solid strategic foundation coupled with her frequent international travel provides boundless inspiration for the firm's many projects.
"Our homes provide nurture and rejuvenation. In our busy lives, that moment you walk through your front door and say ahhhhh….happy to be home, that is what I want all of my clients to feel." – P. Daher
What is your favorite travel destination?
My latest muse is Morocco. I have been 5 times in the past 18 months (planning my daughter's wedding) and the country has become dear to my heart. Marrakech is a designer's dream with color, texture, and handwork. All this in a warm and friendly atmosphere. The ceramics bring a level of craft to be appreciated by all and the tile, oh the tile…intricate designs to inspire and send me over the moon! And then the food, the perfect combination of Middle Eastern with a French influence. Trés bon.
Is there a special detail you always add to your projects?
Each project is unique and needs to appeal to the client. Art is the one element for me that, when added to a room, can make it sing and just feel complete.
Most common mistake you see in interiors…
Accessories that do not add to a room or shelves, they detract. Less is more. Elevate the simple without clutter and the simple becomes beautiful.
What are you reading?
Unsheltered by Barbara Kingsolver
Tell us about a lesson you learned on the job?
Ha! When do we not learn from a job? Each project is unique with a different set of parameters unique to the home. Each project has an army of trades people to pull the entire project together from start to finish. There is always something new to resolve and work through and this becomes the basis of our decisions for each next project. In nearly 25 years of business, I have definitely learned a thing or two on the job. ?
Name something that has inspired your work recently…
Morocco has left an indelible mark on my soul and bits and pieces have been finding ways into my work. Nothing is more magical than a piece of pottery made in a Berber village, brought home and placed on display in a contemporary space.
What has been the most outrageous request you've ever had from a client?
My latest request, and unbelievably, two clients simultaneously: three TV's on the same wall! Yikes – a definite challenge.
What do you especially appreciate about Ironware?
Ironware has become a go-to for my firm. The true customization of the products in terms of size and finish allow us to work them into a variety of rooms of various scales. Many of our projects are in Boston's brownstones, typically thin buildings with ceilings 12' tall. Ironware is an easy resource in terms of customization with efficient fabrication and shipping.
Name something on your bucket list…
My never ending quest…..to be fluent in French and not just a fluent 4 year old. A solid few months in Paris or Marrakech could do the trick!
Why is interior design important?
Our homes provide nurture and rejuvenation. In our busy lives, that moment you walk through your front door and say ahhhhh…happy to be home, that is what I want all of my clients to feel.
Frette: Designer Dialogue
10.17.2019 | Paula Daher | Features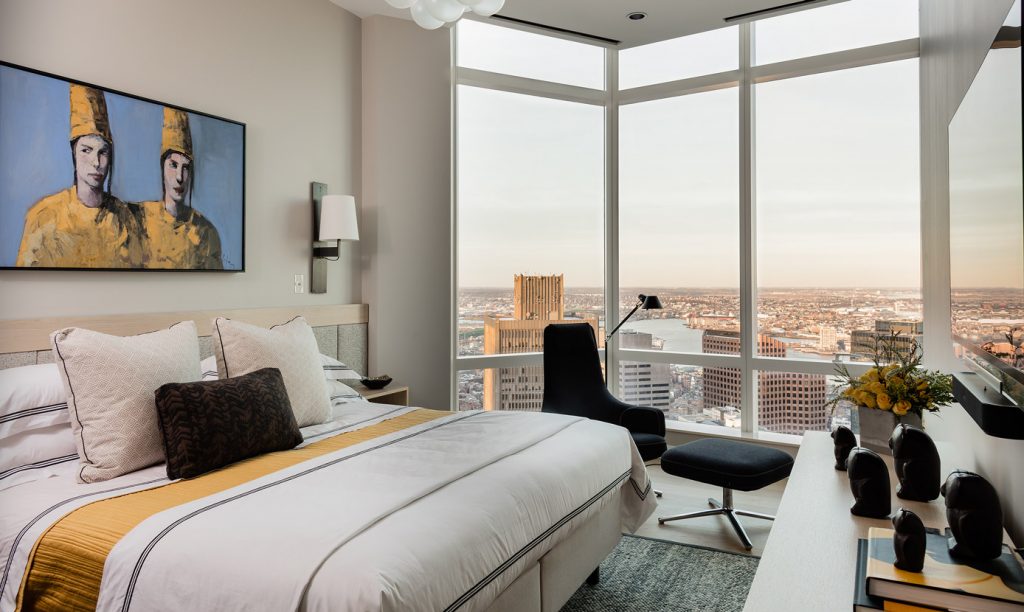 Frette sat down with Paula to learn more about her travel-inspired style and thoughts on the most important design elements of a room.
What inspired your passion for interior design?
As a child, I was obsessed with design in all things – leaves, buildings, clothing, anything visual. Drawing and reading fueled my design world. My bedroom and tiny clubhouse beneath a side porch became my young canvases. With my first apartment and then my first house, I loved the process of designing the spaces, making curtains, painting and tracking down the perfect piece to complete a space. Eventually, a business grew from it. Now, 25 years later with a team of nine, I am proud to say I still love to design. I pinch myself that I have managed to create and sustain a firm that provides interior architecture and design to a wonderful group of clients.
Who are your design mentors, if any?
Design for me was organic with personal trial and error. Back when I began, Traditional Home magazine was one of the few design publications. Monthly, I would pour through the issue enjoying completed spaces, yet my favorite feature was at the end of the magazine – a section containing floor plans of before and after. This opened my mind to re-thinking spaces in new ways. For me, this was an a-ha period where I became firmly committed to interior architecture and getting the bones of a space right.
What are the most important decorative elements in your home?
Artwork adds beauty and soul to a home. For me, the pieces I have accumulated from travel and local finds add the character to make my space my own.
"Travel is an important aspect for my inspiration. Travel domestically or internationally is a wonderful way to move you outside of your daily routine and open up your senses for new and interesting ideas."
What are your three most important elements when designing a bedroom or room?
The floor plan or flow of a room is critical to the room's success. Once established, the design of the space can follow with furnishings and decorative elements. When designing a bedroom, the positioning of the bed is so important. You want the bed to face the windows, if possible, allowing morning light to filter in and greet you each day.
Why is quality of sleep important to you?
The best medicine in the world is an uninterrupted night of sleep. My personal luxury is climbing into my bed with crisp Frette bedding and drifting into seven hours of sleep. The following day is sure to be off to a great start!
From your experience, what is the best decorating advice you can offer someone?
Trust a professional.
What upcoming projects are you looking forward to?
We were recently asked to design a model unit for the new Four Seasons Private Residences, One Dalton, in Boston. The challenge has been to design a space that welcomes potential buyers with many different design aesthetics, yet showcases what Daher Interior Design provides as a firm. All the while, we need to be sure the model and its contents are mobile for relocation to another condo should the model unit be sold. We are very excited to install the space in this spring, bringing a new dimension of design and luxury living experience to Boston.
What is your Style of Living?
I try to embody a relaxed elegance in all that I do. I take care to think about my day each morning, where and when I will meet clients, friends or family. I build my outfit around the day, making sure the people I interact with feel welcome and relaxed in this small slice of time we spend together. This mindset leads to positive energy throughout my day.
Where do you go for design inspiration?
Travel is an important aspect for my inspiration. I am just back from Morocco for the fourth time in 15 months – my latest design muse. The patterns, the colors, the linens, the contrasts, I am really loving the country! Travel domestically or internationally is a wonderful way to move you outside of your daily routine and open up your senses for new and interesting ideas.
What is your favourite book, magazine or site related to design?
While Instagram is an important part of our new design world, the library in our studio with design and architecture books from all over the world also provide endless inspiration. Cuisines Intemporelle is one book purchased in France in 2001 that I always seem to gravitate towards for inspiration.
What is on your nightstand?
At the moment, Unsheltered by Barbara Kingsolver.