Frette: Designer Dialogue
10.17.2019 | Paula Daher | Features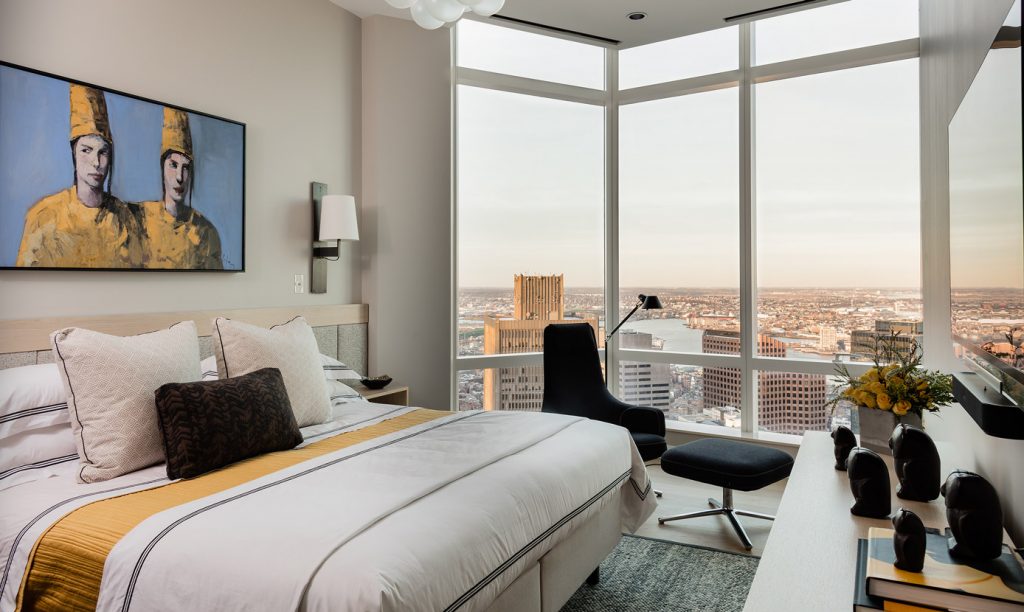 Frette sat down with Paula to learn more about her travel-inspired style and thoughts on the most important design elements of a room.
What inspired your passion for interior design?
As a child, I was obsessed with design in all things – leaves, buildings, clothing, anything visual. Drawing and reading fueled my design world. My bedroom and tiny clubhouse beneath a side porch became my young canvases. With my first apartment and then my first house, I loved the process of designing the spaces, making curtains, painting and tracking down the perfect piece to complete a space. Eventually, a business grew from it. Now, 25 years later with a team of nine, I am proud to say I still love to design. I pinch myself that I have managed to create and sustain a firm that provides interior architecture and design to a wonderful group of clients.
Who are your design mentors, if any?
Design for me was organic with personal trial and error. Back when I began, Traditional Home magazine was one of the few design publications. Monthly, I would pour through the issue enjoying completed spaces, yet my favorite feature was at the end of the magazine – a section containing floor plans of before and after. This opened my mind to re-thinking spaces in new ways. For me, this was an a-ha period where I became firmly committed to interior architecture and getting the bones of a space right.
What are the most important decorative elements in your home?
Artwork adds beauty and soul to a home. For me, the pieces I have accumulated from travel and local finds add the character to make my space my own.
"Travel is an important aspect for my inspiration. Travel domestically or internationally is a wonderful way to move you outside of your daily routine and open up your senses for new and interesting ideas."
What are your three most important elements when designing a bedroom or room?
The floor plan or flow of a room is critical to the room's success. Once established, the design of the space can follow with furnishings and decorative elements. When designing a bedroom, the positioning of the bed is so important. You want the bed to face the windows, if possible, allowing morning light to filter in and greet you each day.
Why is quality of sleep important to you?
The best medicine in the world is an uninterrupted night of sleep. My personal luxury is climbing into my bed with crisp Frette bedding and drifting into seven hours of sleep. The following day is sure to be off to a great start!
From your experience, what is the best decorating advice you can offer someone?
Trust a professional.
What upcoming projects are you looking forward to?
We were recently asked to design a model unit for the new Four Seasons Private Residences, One Dalton, in Boston. The challenge has been to design a space that welcomes potential buyers with many different design aesthetics, yet showcases what Daher Interior Design provides as a firm. All the while, we need to be sure the model and its contents are mobile for relocation to another condo should the model unit be sold. We are very excited to install the space in this spring, bringing a new dimension of design and luxury living experience to Boston.
What is your Style of Living?
I try to embody a relaxed elegance in all that I do. I take care to think about my day each morning, where and when I will meet clients, friends or family. I build my outfit around the day, making sure the people I interact with feel welcome and relaxed in this small slice of time we spend together. This mindset leads to positive energy throughout my day.
Where do you go for design inspiration?
Travel is an important aspect for my inspiration. I am just back from Morocco for the fourth time in 15 months – my latest design muse. The patterns, the colors, the linens, the contrasts, I am really loving the country! Travel domestically or internationally is a wonderful way to move you outside of your daily routine and open up your senses for new and interesting ideas.
What is your favourite book, magazine or site related to design?
While Instagram is an important part of our new design world, the library in our studio with design and architecture books from all over the world also provide endless inspiration. Cuisines Intemporelle is one book purchased in France in 2001 that I always seem to gravitate towards for inspiration.
What is on your nightstand?
At the moment, Unsheltered by Barbara Kingsolver.